These are some of the articles and op-eds authored for various publications by Charles Beckwith.
Fashion Technology Articles, Various Publications
The Future of Fashion Is New End-To-End "Brand Operating System" Platforms
Medium.com
6 January 2020

Can Artificial Intelligence Ever Understand Fashion?
Business of Fashion
27 February 2019

Blockchain In Fashion: How The Fashion Industry Is Looking At Cryptoledgers
Payments and Cards Magazine
August 2018

Fashion Blockchain Startups — A Survey of Players In The Field, Q1 2018
Medium.com
27 March 2018

Blockchains Could Upend the Fashion Business
Business of Fashion
23 March 2018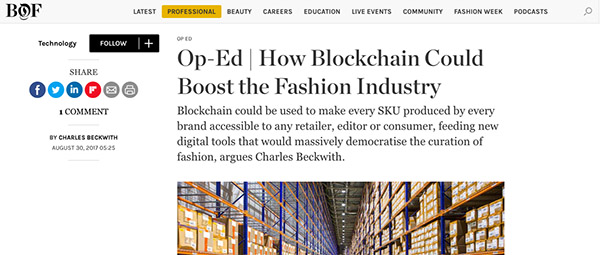 How Blockchain Could Boost the Fashion Industry
Business of Fashion
30 August 2017
Screenwriting Articles
Screenwriters, shouldn't you be networking?
Medium.com
September 10, 2021
---
Charles likes to write about art, technology, storytelling, and communication. If you are interested in working with him to produce new content, please get in touch.
For consultations, see FashionTech. For images, see Portfolio.